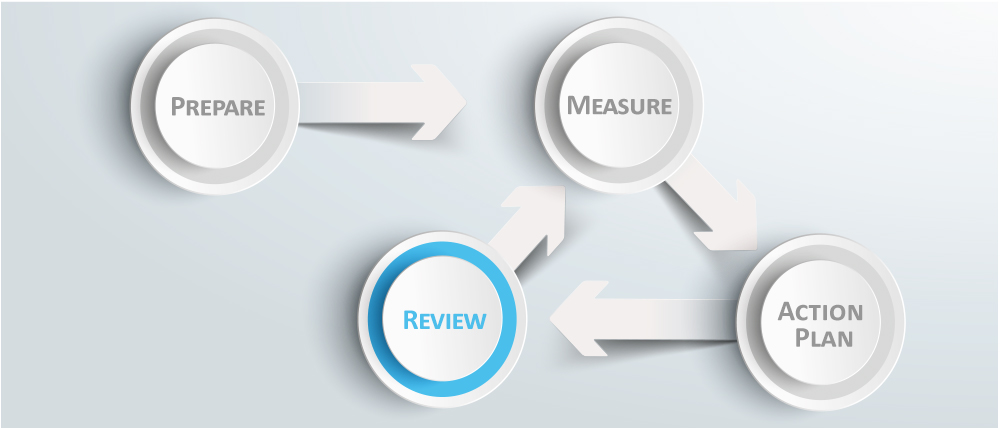 Programme evaluation and review provides essential feedback that will allow you modify your plan and better meet the needs of your employees and stakeholders. You should:
monitor against your action plan to ensure that agreed actions are taking place;
evaluate the effectiveness of the solutions you implemented against agreed targets and performance indicators (e.g. absenteeism, reports of interpersonal conflict)
decide what further action or data gathering, if any, is needed
The key aim is to monitor the actions in your plan to ensure they are having the desired effect within the appropriate timescale. The Steering Group should formally carry out an annual review, however specific meetings should be set up to review progress on major actions after any intervention milestones have been met. Less formal reviews and informal feedback should be collated in an ongoing fashion.
Measure and report against agreed targets and performance indicators (e.g. sick leave, reports of interpersonal conflict). Compare your baseline results with current organisational data to measure behavioural changes and outcomes. This will allow you to justify your efforts by determining the degree to which employee's attitudes, behaviours, and health indicators change as a result of your programme and secure further funding (if necessary). Although it is difficult to quantify the financial return associated with your action plan initiatives, it is important to identify ways to measure success. Consider staff participation figures and evaluation feedback for specific initiatives.
Re-administer Work PositiveCI within an agreed time frame to re-assess risk rating and assess impact of interventions on  stress/distress levels. You should consider repeating stage 2 (Measure) of the Work Positive approximately 12-18 months after the initial survey. This timeframe provides the opportunity for action plans to be implemented and for improvements to be made;
Review against strategy goals at planned intervals, to ensure its continuing suitability, adequacy and effectiveness;
Aim for continuous improvement, rather than expecting a dramatic and uniformly positive impact;
Reviews should include assessing opportunities for improvement and the need for changes
Timescale
 For larger organisations to complete one full cycle of the risk management process, 18 months is recommended, smaller services may have a proportionately shorter risk assessment cycle. This includes:
Up to three to six months to complete  the risk assessment and develop the action plan,
An additional month/two to integrate the section on critical incidents,
A further 12 months for implementation to allow solutions time to have an effect and produce measurable outcomes.